Did you know you can save time but grow your brand awareness through an Instagram post template? Canva allows you to do that in just a few minutes!
In this post, I'm going to share with you what Canva is, why you should use Instagram post templates and I'll list my top 5 Instagram post templates for beauty businesses (just to get you started!). 
Disclosure: This post contains affiliates. I earn compensation if you buy the product. I only add affiliates that I've tried myself or would prefer to you. Read more Privacy Policy & Disclosure
What is Canva?
Canva is a free online graphic design platform that makes it easier for you to create designs, share designs and sell your designs. It was founded in 2013 in Sydney, Australia by Melanie Perkins, Cliff Obrecht and Cameron Adamas. 
You can design anything from presentations, infographics, social media content, logos, print-ins and so much more. If you haven't created a Canva account yet, you should by clicking here.
For me, I use Canva for nearly everything in my life including selling social media templates for small or large businesses. These include Instagram templates and Pinterest templates. If you want to find more of my products, you can check me out on Etsy or Creative Market. 
The purpose of using Instagram post templates?
It's easily customisable to suit your business aesthetics
The best part of having Canva is that you can simply share designs through a link and be able to customise the templates (whether that be a shared design or a duplicate design link). You can also use "team edits" to edit the designs with your team members. 
Although some elements may be available for only Pro users (I say it's worth it!) you can still be able to modify, add and edit some elements, colour, text/font, music, videos and many more. 
For example, you can change colours to suit your brand theme or change fonts that your brand uses consistently. 
It helps you save time
Whether you are a business owner, content creator, blogger, social media marketer or virtual assistant, having these Canva Instagram post templates will allow you to create the content through drag & drop so that you're able to focus on more important parts of your business or your client's business. 
For example, on Canva, there are image grids that allow you to put your own photos/videos or Canva's images/videos. 
You don't have to spend hundreds and hundreds of dollars on a graphic designer
If you're on a budget, you can simply purchase these Instagram post templates for a one-time price and be able to customise them however you like. These prices are affordable and can range around $5 – $40 depending on how many posts are included in these templates. You can also use them for an infinite amount of time! 
But, if you have a lot of money to invest in your business, you can simply have me design your very own custom Instagram branding kits that come with 20 Instagram graphics (IG posts, IG stories & IG highlight covers), your cartoon logo and 5 custom brand illustrations. 
It allows you to build your audience base using trendy designs
Us Canva designers like to keep up with trendy designs to suit what's up with the trends. Not only that but each individual designs are unique and is consistent with a theme. 
Having these Instagram post templates allow you to easily bring exposure to your brand or business as well as build your audience. 
You don't need graphic design skills at all!
Well… maybe basic knowledge of graphic design is needed but the majority of it doesn't require it if you're dragging and dropping. 
That means we do the graphic design for you while you do the easy job of adding your business content.
My top 5 favourite Instagram post templates that I've created
Essential Oil (Full version) Instagram post template 
This bundle includes 40 Essential oil Instagram posts and Essential oil PNG cliparts. If you're an essential oil business, you're going to love this pack! This is great if you're looking to showcase your products. The main colour scheme is green and beige – suited for all skincare businesses. I had fun drawing the essential oil cliparts as well!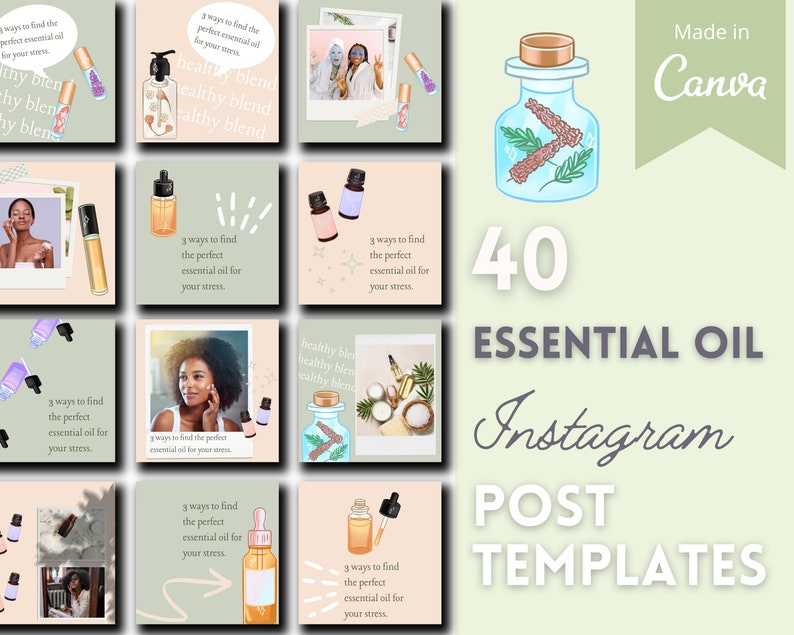 Essential Oil (ver 3) Instagram post template
This bundle includes 28 Essential oil Instagram posts and Essential oil PNG cliparts. The difference between ver 3 and the full version is the template designs and lesser cliparts. I wanted to make it more affordable for others while using different designs for its unique pack. The main colour scheme is lime, dark green and pale yellow.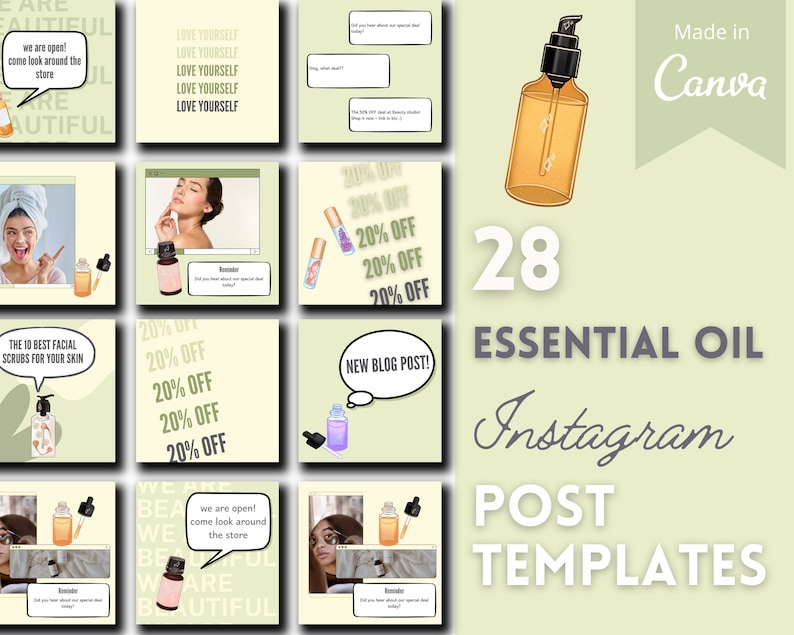 Essential Oil (ver 2) Instagram post template
Next is ver 2, which includes 20 Essential oil Instagram posts and Essential oil PNG cliparts. Compared to the others, this one is more on the feminine side using the pink colour schemes. The design is geared towards new shop openings and is product-based. You can add your logos in the small circle grids!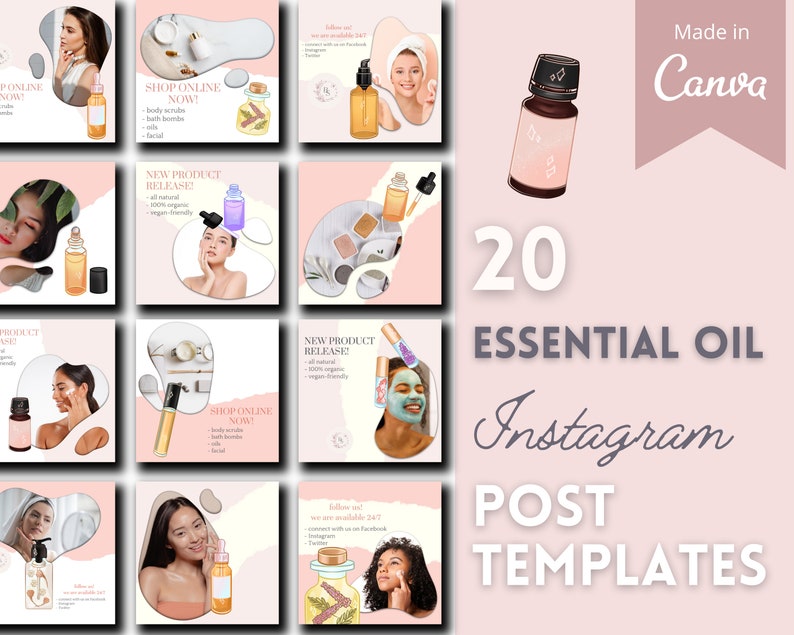 Skincare Instagram post template
If you're looking for more fun and feminine Instagram post template designs, then this one is for you! The designs on this template are more unique than the essential oil themes. This is more geared towards informative Instagram posts rather than product-based (so you can add informative skincare routines, infographics and lists). This pack also includes 5 skincare PNG cliparts.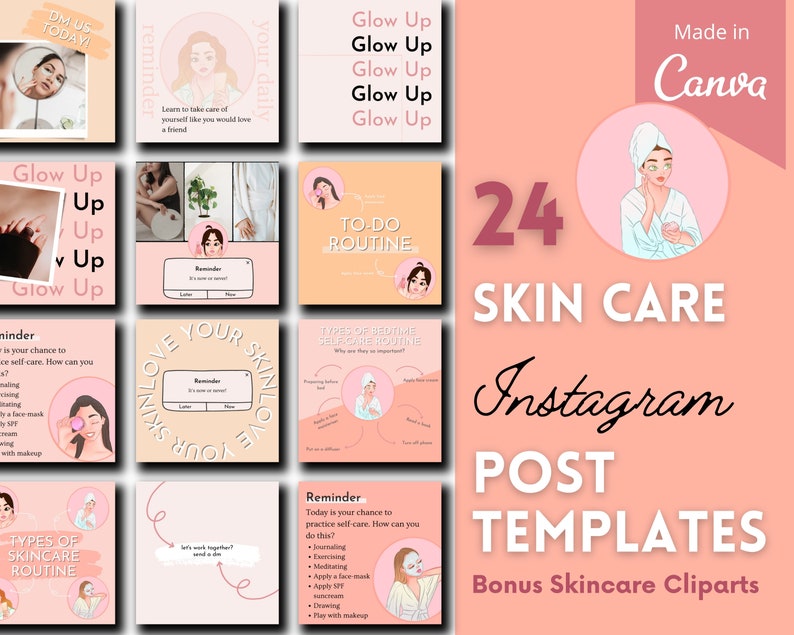 Beauty & Self-Improvement Instagram post template
Like the skincare Instagram pack, this one is also fun and feminine but more geared towards inspirational and quote content. So if your Instagram account is for self-care and inspirational content, you're going to love this one. It also includes quote beauty (makeup and skincare) cliparts!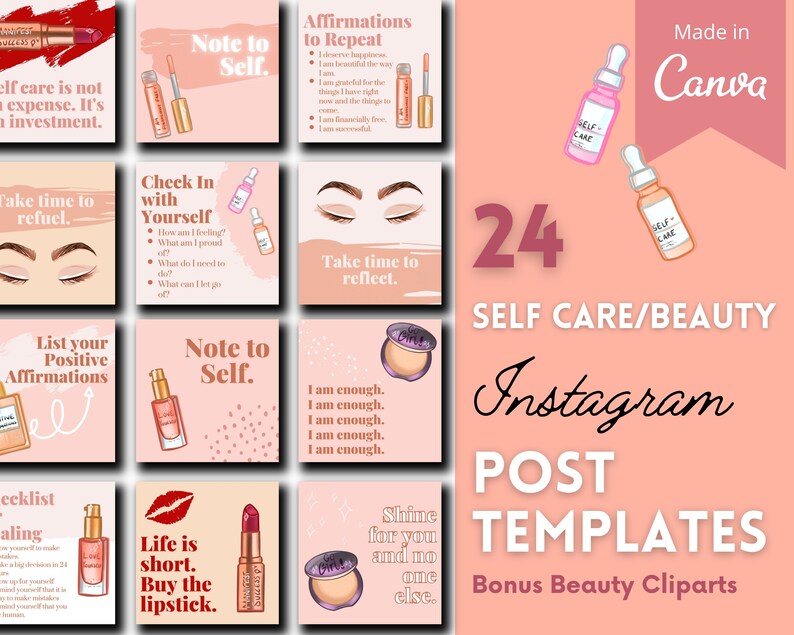 What is your favourite Instagram post template from the list above? Make sure to comment below. If you like it, you can simply purchase the templates through the links included. 
Want free beauty templates to use? Sign up below to get access to the resource page below.